N.B.: This is a long post and it's been split up into four different sections - Favorite Reads (2 parts), Superlatives, and Honorary Mentions. I'll have a link to parts II - IV once they're up. This has been crossposted on my blog from BookLikes, so the formatting may be different than the one from last year (which was the first year of my "Favorite Reads" compilation.)
Yeah, it's that time again. I can't believe that it's been a little over a year since I did my first "Favorite Reads" post, but this is usually my favorite part of the year to showcase some of the titles that I enjoyed immensely and to showcase what I like to call "book superlatives" to name titles, authors, audiobooks, among other measures in my book perusals.
If you want to see my picks from last year, I've included links to them below just as a recap. Last year's picks were fun, and I really enjoyed doing the showcase. I may consider expanding this theme in the future, but I think for this year, the format will remain close to the same.
Rose's Favorite Reads of 2012: Part I
Rose's Favorite Reads of 2012: Part II
For this first post, the same rules apply for this particular section, and I'll repost them just to familiarize those of you who are new to it this year.
The first part of this will feature exclusively books that I've read this year that were also published this year.
This list is presented in random order while I note titles/authors, genres of the books, release dates, and a general reflection on why it made the list. This is only the first part of my favorite reads of the year, so it's a group of 20 books, these are just the first ten (in completely random order).
Favorite Reads of 2013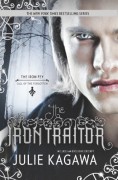 Title: The Iron Traitor
Author: Julie Kagawa
Genre: Adventure, Fantasy, Romance, Young Adult
Release date: October 23rd, 2013
Review on Writing Through Rose-Tinted Glasses
Reflection:
Julie Kagawa's follow-up to "The Lost Prince" is a knockout - well rounded characters, palpable stakes, brilliant worldbuilding, and a compulsively readable style that makes the narrative hard to put down. It was one of my favorite reads this year for those reasons and for completely making me sit on the edge of my seat craving more by the time I finished the book. Ethan Chase still narrates and is even more likable in this installation than the first book, venturing into the Nevernever yet again to find where Ash's son, Kierran, has run off to in order to save a lover who's rapidly disappearing. But as you can probably tell from the title, not all is well in this respective world, and there are more than a few deceitful parties for Ethan and the group to come across. That's not to say that it doesn't have its moments of humor and sweetness, but the stakes ramp up high. I couldn't believe the cliffhanger ending. It still guts me as I think about it in this respective reflection and I can't wait to read more of the series when it's released. (I still have to wait a year? Nooooooooooooooo.)
Title: A Match Made in Heaven (My Boyfriend is a Monster #8)
Author: Trina Robbins
Genre: Fantasy, Romance, Middle Grade, Comics, Graphic Novel
Release date: April 1st, 2013
Review on Writing Through Rose-Tinted Glasses
Reflection:
"A Match Made in Heaven" had all the right elements to be a fun, yet bittersweet read. It was my first exposure to the "My Boyfriend is a Monster" series, and its wonderful plot, manga style and feature of prominent, witty POC characters really stood out to me this year. The story is about an aspiring manga artist named Morning Glory who's relentlessly bullied and fallen on hard times, but her best friend helps her get through the rough spells. The two of them meet a new kid named Gabriel, who isn't completely *cough* human. Gabriel's sent to help Glory's friend, but Glory ends up falling for the heavenly being and ultimately the two have to face the truth of coming from different worlds. For a story of its type, it's not completely unfamiliar, but it's beautifully written and with wonderful artwork.
Title: Hyperbole and a Half
Author: Allie Brosh
Genre: Autobiography, Comics, Humor, Non-fiction
Release date: October 29th, 2013
Review on Writing Through Rose Tinted Glasses
Reflection: Allie Brosh is my heroine. Enough said. This was a release this year that I did not expect for the life of me to have me laughing so hard that tears were in my eyes, while also at the same time providing a warm, sobering viewpoint of Brosh's respective life and trials in some measures (such as her expansions on depression). I've followed Brosh's blog for quite some time and the book includes both material from the blog as well as new expansions on her experience with growing up, her very peculiar dog, among other funny anecdotes. This is one of my all-time favorite reads, and it most certainly gets a place among my favorite reads of the year.
Title: Shadowdance (Darkest London #4)
Author: Kirsten Callihan
Genre: Urban Fantasy, Supernatural, Historical Fiction, Romance
Release date: December 17th, 2013
Review on Writing Through Rose-Tinted Glasses
Reflection: "Shadowdance" is the fourth book in Kristen Callihan's "Darkest London" series. I'll admit this series had me at hello for its blend of action, dark humor and thematics, paranormal/supernatural leanings within an urban fantasy setting, historical leanings and careful attention to an alternative London setting, and piping hot romance alongside strong character chemistry.
I think every book in this series builds to be better with each installment. I found Jack Talent and Mary Chase very much worth following through this respective tale, as they reluctantly work together to track a dangerous serial killer hunting shifters. Jack himself is potentially a target, but there are a lot of secrets to be had between Jack and Mary both, and following the action and peril in this was just as rewarding as learning how each of the characters deal with each other and their personal pains. If you haven't read this series before, it's a fine time to start.
Title: Through the Smoke
Author: Brenda Novak
Genre: Historical Fiction, Romance, Gothic, Mystery, Suspense
Release date: October 15th, 2013
Review on Writing Through Rose-Tinted Glasses
Reflection: People kept asking me left and right this year what my favorite romance of the year was, and two of the titles that quickly came to mind were historical romance and quite dark in thematic. "Shadowdance" was one of those titles, and Brenda Novak's "Through the Smoke" was the other. Though this title is considerably more in line with gothic thematics and a mystery with dark undertones. A bookkeeper (Rachel) finds herself at a loss with her ailing mother and mounting community distress when the Duke of Eldridge (Truman) comes into her company. Truman is relentless to find the source of the circumstances surrounding his former wife's demise, and is often relentless in his pursuits to do so, believing that Rachel knows vital information. It's a compelling read, one that completely surprised me with how much it drew me into the environment and characters. It's my first read from Novak, but certainly won't be the last.
Title: Necessary Lies
Author: Diane Chamberlain
Genre: Historical Fiction, Tough Subjects, Based on Actual Events, Drama
Release date: September 3rd, 2013
Review on Writing Through Rose-Tinted Glasses
Reflection: "Necessary Lies" is hands down one of the best books of 2013 that I've read. Taking place in the 1960s, it tells the story of two women whose lives clash together during the mass reproductive sterilizations that occurred at the hands of the North Carolina Eugenics Board. Thousands of people were subject to these practices simply for mental illness, poverty, background, and while the story's fiction, it's based on actual events. I couldn't help but be choked up by this respective story, not just for the fact that occurs close to home, but for the level of emotion and character depth that Chamberlain brings to both Jane and Ivy's perspectives. For me, in turns it was a frustrating read, but also very illuminating on its subject matter, and one I'd highly recommend.
Title: Reality Boy
Author: A.S. King
Genre: Young Adult, Tough Subjects, Realistic Fiction, Contemporary
Release date: October 22, 2013
Review on Writing Through Rose-Tinted Glasses
Reflection: "Reality Boy" is one of those reads that completely took me by surprise this year in terms of how resonant it was for its subject matter. The story showcases Gerald, a boy haunted by a reality TV past that subsequently showcased this damaged family. Gerald was known once as the "Crapper" - a five year old boy who (literally) crapped on everything around him as an emotional trigger from pains he suffered at the hands of neglect from his parents and abuse from his sister. The story may seem like it's humored in tone, but it's far more heavy than the set up would have you believe, and Gerald's voice is not only an authentic teen trying to find his place in life, but also deal with his demons from the past in a palpable way - inside his family and out.
Title: The Sea of Tranquility
Author: Katja Milay
Genre: New Adult, Young Adult, Drama, Tough Subjects, Realistic Fiction, Contemporary
Release date: June 4th, 2013 (paperback release from Atria)
Review from Writing Through Rose-Tinted Glasses
Reflection: For better and worse, I think 2013 could certainly be considered the year of the New Adult release boom. Those of you who have followed my blog - reviews and perspectives alike, however, know that this specific genre subset has mostly yet to impress me on a collective note - I'm largely underwhelmed by New Adult for its cliches and the way it deals with tough subject matters alongside its lack of diversity, both in cultural and social terms. I think reading Katja Milay's "The Sea of Tranquilty" was the first book that not only impressed me for its level of writing, compelling characterization, dramatic reveals and undertones, but it also saved me from quitting the genre entirely. I don't make that statement lightly at all.
If anyone wants to know what I judge the quality of mainstream New Adult by - this is the title that I cite, time and time again, because it did everything it sought to do and then some in a compelling way. (I would argue that Melina Marchetta, with "The Piper's Son" and Laura Buzo, with "Good Oil/Love and Other Perishable Items", set probably closest to the definition which I think New Adult proposes itself to be. But it's not matching necessarily to what people are reading and ultimately what many authors are writing in this genre, and that's a hard sell.)
There were others that just barely missed my favorites cut like Rebecca Donovan's "Reason to Breathe" and Leah Raeder's "Unteachable," but I'm already anticipating reading whatever Milay writes in the future, because she's gets it. That's not to say that it's without flaws, but she did an excellent job with it.
It's not the only New Adult title I have on this respective favorite list as you'll see in upcoming mentions, though.
Title: Fangirl
Author: Rainbow Rowell
Genre: Young Adult, New Adult, Coming of Age, Humor, Tough Subjects, Realistic Fiction, Contemporary
Release date: September 10th, 2013
Review on Writing Through Rose-Tinted Glasses
Reflection: 2013 was pretty much the year for Rainbow Rowell because she had two releases with major attention and applause from many people - "Eleanor and Park" and "Fangirl." But if I'm citing my favorite among the two titles, I have to go with the latter. Rowell gets not only the college environment right down to a teeth, but also expounds upon writing in fandom with an eye I haven't seen before in YA/NA literature to date. Cath is a young woman trying to survive her first year of college, while dealing with family issues between her parents and twin sister, and her struggle to keep up in school as well as with her writing passions. Levi became a character crush for me as well in this book, and his interactions with Cath are well worth watching over the course of the book. I definitely can't wait to see more of what Rowell writes in the future.
Title: Firefly Hollow
Author: T.L. Haddix
Genre: Paranormal, Supernatural, Historical Fiction, Slice of Life, Magical Realism, Romance
Release date: September 23rd, 2012 (but I think it had a re-release in 2013, wish I could confirm it. Probably the one exception to releases on this list.)
Review on Writing Through Rose-Tinted Glasses
Reflection: My final pick for the first ten of my favorite reads of 2013 was another title I had no idea about the author until I heard the rec from one of my blog/reviewer friends (I thank Litchick's Hit List for her high recommendation of this book, because it was worth the time).
"Firefly Hollow" surprised me for its steadily developed characterizations and interesting approach to the paranormal/supernatural blended in a magical realism environment. The woman is a librarian, the man is a reclusive writer with a dark secret. The two meet and come together in a beautiful way over the course of many years. With careful attentions to setting and their respective familial and personal issues, "Firefly Hollow" was a treat to read, and among my favorites of the year. There are more titles in the respective series, but I've yet to *cough* devour *cough* them all.
That's it for the first part of my favorite reads post. Be sure to check back soon for Part II, where I'll go into Book Superlatives before revealing the second part of my favorites list.