Seventh day of this Book Challenge, and it asks me to name books that make me laugh. As per usual, I'm making a list of ten books, and four of these are actually from the same series.
Let's do this!
I would so totally recommend listening to the audiobook for Libba Bray's "Beauty Queens." Not only is it narrated by the author, but she really brings it to life. And it is hilarious. I remember listening to this while I was on the bus commuting to and from work, and I had to keep from laughing several times because the satirical humor was so on point, for many of the cliches it represents. On the surface, it's about a group of teen beauty queens who are stranded on an island, but it ends up being a worthwhile journey of all kinds of craziness.
The next book I'm featuring on this list is an interesting non-fiction book that started off as a series of tweets, and grew to be so much more. "Sh*t My Dad Says" was a humorous look at one son's collection of his father's words of wisdom, delivered probably as bluntly as one could think. I shared this book with my father on Father's Day and even he thought it was hilarious.
I feature Jennifer Crusie again on my list, and again with "Agnes and the Hitman", because I still have memories of the craziness that went on in that book, and I remember I couldn't stop laughing. I remember at the first time I read it, I'd checked it out of the library as an audiobook, and my sister came in the room asking me what I was laughing about so much. I had her listen to a few chapters with me, and even got her to laugh along with me. It was a fun read, and definitely among my favorites.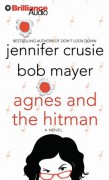 "The Absolutely True Diary of a Part-Time Indian" by Sherman Alexie is just as much eye-opening as it is humorous. I remember my first introduction to Sherman Alexie was through the movie "Smoke Signals" - which was a hilarious look at a group who lived on a reservation, but this book is actually a collection of stories based on Alexie's own boyhood experiences. Some parts of the story are tough to read, but Junior has an interesting wit about him that's true to life, and it's among my favorite YA reads.
I definitely admire Brandon Sanderson's writing, and the Alcatraz books are certainly among those that I valued and had me laughing, especially the first book considering all the random humor that's thrown at the wall. Sanderson mentioned many times in narratives surrounding the book that he broke many of the cardinal rules of writing and had an unreliable narrator direct address in the work to keep the humor going. I thought it was really funny, and immersive as well for a middle-grade/YA adventure story.
Craig Ferguson is my hero - his honest autobiography in "American on Purpose" of his rise to fame and journey from Scotland to America was as potent in some of its expansions as it was funny, and I loved the audiobook version of this book - which he narrates.
Finally, I'm just going to feature all of the Ruby Oliver books here by E. Lockhart. If you haven't read them, I would totally recommend them - Ruby's just a joy to follow and I definitely found myself laughing in the narratives surrounding her experiences, her family, among other things.
That's it for today's entry, until tomorrow.
Most overrated work...Hmm. That gives me something interesting to ponder over.